Eli English is a Traditional Naturopath. Healing can occur naturally in the body if it is given what it truly needs. During consultations, Eli English uses homeopathy, herbs, Integrative Energetic Medicine and Indigo Quantum Biofeedback to help reduce stress, detoxify, manage pain, improve mental abilities and enhance the quality of life. Eli English's goal is to empower clients to make informed decisions about your own life and health care.
The level of attention, personalization and passion for natural health that Eli provides is unlike any other.
Eli English uses the Indigo/SCIO Quantum Biofeedback System
www.thequantumalliance.com/indigo
"Our advanced form of biofeedback measures stress reactions to thousands of precise signatures of substances ranging from minerals, to vitamins, to 100's of chemicals, toxins, pathogens and much more, which is an entirely different way to look at our relationship to these items in terms of stress. Instead of quantities in blood tests, we look at what people react to, and then explore why. We work with sophisticated shapes of electrical energy that are so precise that we can actually see the brainwaves change positively in
response to entrainments with them." Gage Tarrant, Institute of Stress Sciences
---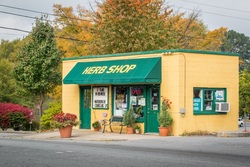 The Herb Shop by the Square is the office of Eli English, ND. She celebrates 16 years serving Marietta. Her focus is on offering the highest quality products containing the most natural and organic ingredients. Does your multivitamin contain Vitamin A Acetate or Palmitate and/or Vitamin E Acetate? These are basic synthetic ingredients she encourages people to avoid. She loves educating and inspiring clients to live healthier lifestyles.


---
44 Mill Street, Marietta, GA 30060 (770) 423-7339